3 best plugs and how to install and use Banana Plugs for your speakers and Home Theatre
I'm time poor. Just give me the best ones?! Here they are:
Monoprice 109436 Banana Plugs for Speakers Affordable
Mediabridge Banana Plugs (12 Pair) Solid base with strong color ID bands
Sewell Direct SW-29863 (12 Pairs) - Deadbolt Great value for money + best overall reviewed
---
Banana Plugs for speakers are a revelation. If you've spent most of your life trying to manipulate wiring to fit into stereo and speaker poles then you know it can be a real effort. It's fine if you fit the cables and have no intention to ever change them but if you, like us, often move house or rearrange your music listening rooms, you'll never look back.
It would be very 'typical audiophile' for us to bang on about how crucial these connectors are to your finished audio listening experience. Personally, I think unless you're spending in excess of $5K on speakers then the options in this list of banana plugs for speakers will be more than sufficient.
Gold-plated is renown for assisting frictionless audio transference, which these all come with. The quality of the gold plating might vary but I think you can overthink that too. Disagree? Show me the science and I'll change my view.
---
Why use Banana Plugs for speakers?
There are a load of reasons for using banana plugs for your speakers.
The first, in our opinion, is just the convenience. It's so easy when you want to assemble, move or clean around your speaker pole terminals to be able to pop the plug out.
Multiple amplifiers and different speakers. If you have more than one HiFi stereo unit or more than one set of speakers you might choose to unplug and move the cables each time. You could use an Amp switcher which makes it easier but you might be keen to avoid another connection point between the stereo and your speakers.
Reduced wear and tear – on both your cables, speakers and your amps. The less you have to touch all of these elements the better. The more human oil you get on your cables the more likely they are to degrade, especially in humid conditions.
The fourth reason to use banana plugs on your speakers is to guarantee a solid, uninterrupted connection. There is no doubt that having the naked wires pushed into the slot and the screw cap on the speaker terminal works but there is always the feeling that you might not have screwed it down tight enough.
Stray wires – The other issue is if you have a stray wire it could reach across and touch another terminal – this is especially true on the back of the stereo amplifier where the terminals are very close to each other.
Aesthetics. It just looks so much nicer having clean wiring terminals. And if you've ever hung out on the Reddit stereo forums you'll know how seriously audiophiles take their tidy wiring.
Color coded to ensure you plug your speakers are in-phase. Everyone has their way of marking red/black, left/right speakers but banana plugs just make it that bit easier.
It's also important to mention here our post on the best flat speaker wire for those of you needing the cables and wanting a slim line installation.
Are there different types of Banana Plugs?
Yes, and No. There are different configurations of banana plugs which tend to fall into these categories:
Straight – typical and most popular. Like the Monoprice 109436
90 degree angled (right-angled) – a 90 degree angle for those needing to put speakers back against walls etc. Like the Monoprice right angled banana plugs
Short base – for those that don't want a long base you can get a shorter base like the Sewell Direct SW-29863, which are still 4mm plugs. It's not a different type of plug, just less length is given on the short end.
There are speaker plugs that others consider when looking at these. Those kinds of plugs include a spade type and a PIN type. Pin type plugs suit spring-loaded speaker terminal inputs but is less common on decent HiFi gear. Spade type plugs don't give you the confidence that Banana Plugs give you.
Screw-in vs Self-crimping Banana Plugs
A few companies have innovated on the typical screw-in banana plugs. As you'll see in our example video below we have demonstrated using the Nakamichi banana plugs which are a two screw configuration.
These work great but other companies have also come out with self-tapping or self crimping banana plugs which don't require tools to fit. You slide the speaker cable through, fan out the wires and then screw the base on. This provides a self-securing plug and works well.
Either work fine – you just need to ensure there is good contact between the wire and the plug.
As we say, check out the video below as we install a 2-screw type plug and the issues we have with assembly. The self-assembly units are much easier.
Banana Plugs for Speakers Compared
Photo examples of Banana Plugs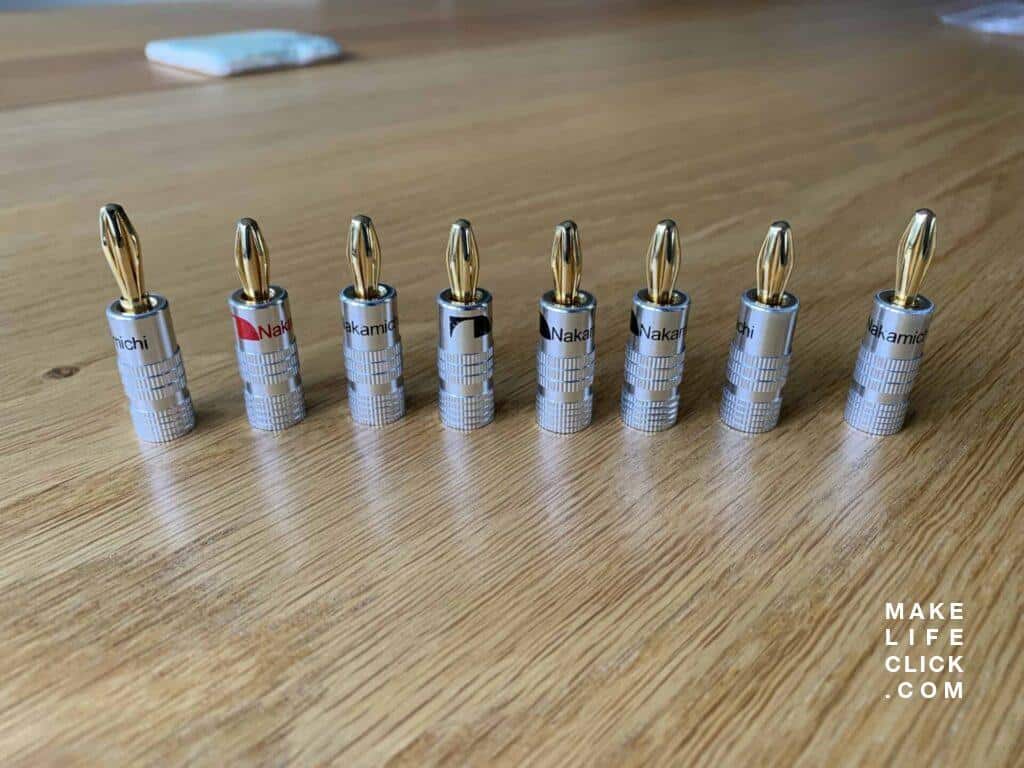 I'm not sure if I just wasn't willing to give a hard push on the Q Acoustic 3020 binding posts but they still stick out a bit. Doesn't impact sound but right-angled banana plugs might have suited better.
How to install Banana Plugs Video
Now the units we've listed here are all self crimping but we've included this video of the installation of a 2-pin screw-type banana plug – these are Nakamichi branded plugs which are also quite popular.
---
3 Best Banana Plugs for Speakers
There are enough plugs in the 5 pair set for a 5.1 centre and surround addition to your existing home theatre set up, assuming your Subwoofer is using an LFE cable. It might be the perfect set of 5 that makes this such a best-seller but there are a few other reasons including Monoprice being a reliable brand and the sizzling price that puts these speaker wire partners in the affordable category.
These are a 24K gold plated brass plugs and the color coding is a black or red ring on the base.
In terms of speaker wire gauge, these can take up to 12 or 18 gauge (AWP). A great way to ensure you don't risk shorts across terminals. 16 gauge is probably as common for these as other speaker wire gauges.
These are self crimping plugs. We've mentioned how those work above. You push the wire through the back of the plug, push the wires back and screw the top on to create a tight seal. This makes it easier than fussing with tools. You'll see in the video below I really struggled with the twin screws type.
Pros
24K Gold plated
Self crimping/tapping screw on top
5 pairs when you don't need any more
Affordable price
Cons
5 might be an odd number if you are doing a full install
If we only said one thing about this model it would be…
Sells a lot of units as not everyone needs more than 5 pairs. 24K gold and cheap = #winning
Check out the latest reviews
---
Our second pick share similarities with the others in the Top 3 – 24K gold plated plug with the ability to handle 8-18 AWG (American Wire Gauge) speaker wire.
Being gold the selling point is anti-corrosion. As someone who lives near saltwater that is very appealing. These are a quick fit if your speaker wire is ready to go and is stripped.
The thing we like about the Mediabridge plugs is the really really obvious color coding on the base unit. There are times when reaching behind the TV/Stereo cabinet or floor standing speakers when the light is dim, the physical position is uncomfortable and you just want to know what bloody plug you are holding in your hand! The large red and blue for polarity/correct phasing on these is attractive to us.
As long as you assemble this correctly you'll never get the phasing of your speakers wrong.
Strong build and easy to manage base which, when you are moving your units around (which will happen), can be a real plus. Slightly more expensive than the Sewell but still 5 star rated.
Pros
Solid, quality feeling plug
Nice bright and obvious color bands on bases for correct phasing.
No need to spend more for anything fancier, IMO.
24K Gold plated
Cons
A few dollars more than some competitors.
Wide base.
Some might not like the bright red on base plugs.
If we only said one thing about these plugs it would be…
Strong base and good feel. Like the large color on the bases.
Check out more reviews
The Sewell Banana plugs have a nice grip to the base which makes it easier to manage when tapping in the threads from the speaker wire. You can buy them in 2, 5, 6 and 12 pair bundles but the 12 is the most popular.
You'll use more of these than you think if you connect your cables at the amp end and the speaker end; this doesn't even begin to cover bi-wired speakers in a home theatre configuration.
These are also 24K gold plated with a heavy-duty brass base for extra endurance.
Sewell has always promoted the speed at which you can connect these suckers, although also consider you need to strip your speaker wire first so it's ready to go. This is easier if you have a crimping/stripping tool. Once your wires are stripped though it is a super-fast process threading the cable through the base, folding back the wires and then screwing the base and tip together.
Pros
24K Gold-plated
Best rated units
Self crimping
12 pairs – enough for a stereo front pair and centre speaker or adding centre and two surround speakers.
Quick fitting
Nice extra touch with the saw styled teeth to grab the wires.
Cons
Some older stereos have quite close input speaker poles (like our Denon DR-37 unit but not our Denon AVR-4500h unit). The wider base is a consideration there.
If we only said one thing about this unit it would be…
Easy and fast fit with one of the best rated plugs on the market.
Check out more reviews
Conclusion
It might be said one banana plug is much like another, and that might be true but there are always subjective and objective reasons for choosing this type of HiFi accessory. It might be the look or simply the brand.
If you're looking for a few pairs at a good price then the Monoprice will be great for less than a lunch at Starbucks. The next two decisions might be based on price with the Sewell currently coming in cheaper than the Mediabridge.
If you have any questions, let me know below. Whatever you choose, banana plugs will definitely change your HiFi and Home Theatre experience.
This post was last updated on 2020-01-25 / Some images from Amazon Product API & some links may be affiliate links which may earn us a commission from purchases.