Today Amazon has launched an absolute surprise collection of new echo enabled devices. Some, I expect, you didn't see coming. To be honest, I was only just getting used to the new echo auto.
Essentially Alexa is now in your home, car and where ever your body goes. I'm not sure long term how the rest of the world is going to feel about people around them wearing a portable microphone attached to a smart, cloud-connected device.
Google Glass (which has kind of pivoted to professional uses) faced similar criticism so, I guess we'll see where this lands in the public domain and critical opinion.
Customisable, yet an almost commoditised consumer goods.
It's really interesting that Amazon, who are so well known for churning out mass productions of consumable electronics to as many people as possible for as cheap as possible, are now producing the same goods…but with personalise elements. I mean:
The echo frames, are prescriptions glasses need to be fitted, to a point, or you at least need to fit a generic profile to start.
The echo loop has a ring fitting kit as a part of the purchase experience.
So, let's see the highlights of the new releases
Let's go through them and highlight the best features of each. These echo smart devices are not available until November and some are invite-only.
You can be sure our names are down for all of these units.
echo Frames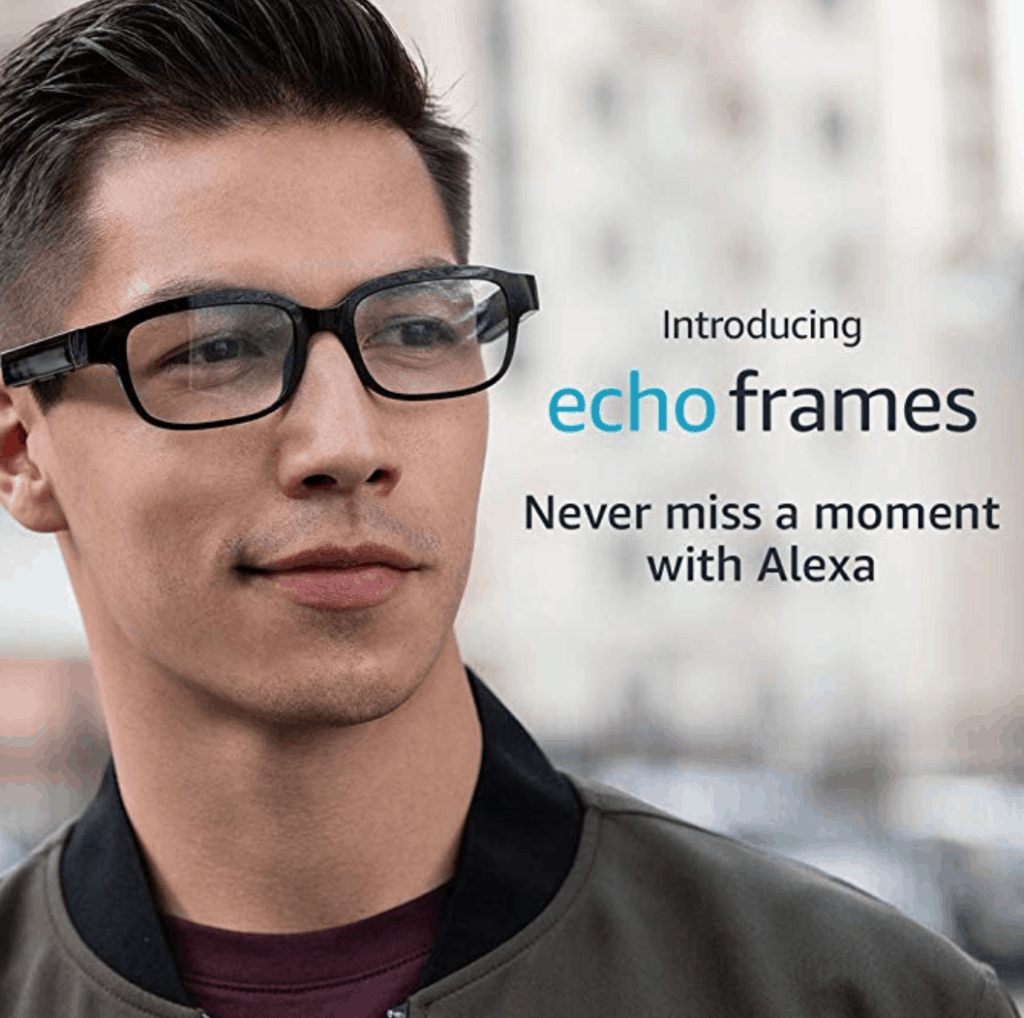 This is one of the most surprising of all the launch items. A prescription pair of glasses, but smart glasses with a small echo Alexa built into the frames. A mic to pick up your voice which makes them useful for pretty much everything you use echo for.
Anywhere you go you can access the echo via a connection to your smartphone. Like the echo Auto, you can leverage the Alexa app on your phone for data and then connect to the cloud for all your echo things.
Examples:
You're out for a walk and you remember you needed to call your Mum…'Alexa, call….'
You're on a run and remember you need Milk – 'Alexa, add Milk'.
The echo Frames are an invite-only product right now and you need to provide details of your current prescription glasses as the Frames might not be a good physical fit.
You can see the echo Glasses here

echo Loop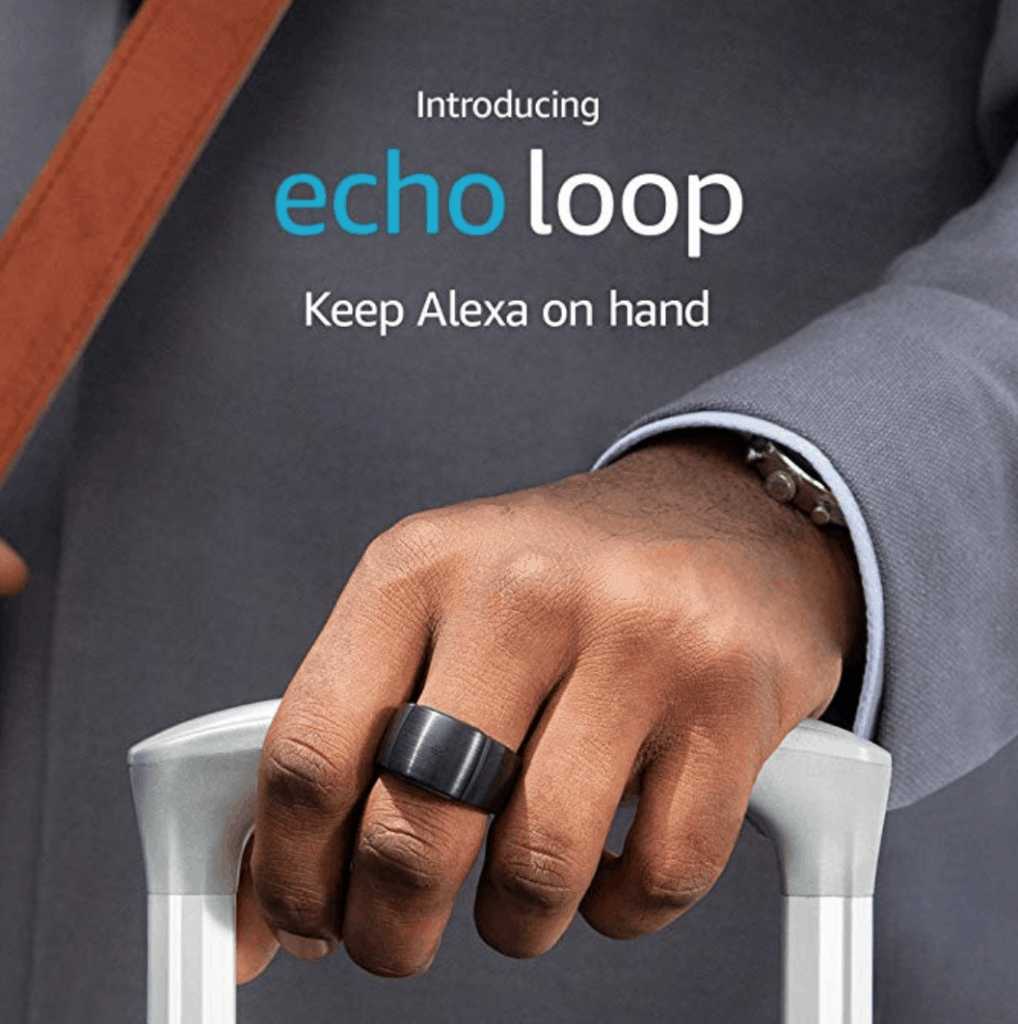 A smart ring for your…hands? One ring to rule them all? (couldn't help myself) This will one to watch when the reviews start rolling in as I expect there is some size to this ring as it needs to hold a microphone and enough smarts to operate as an echo.
The ring is built tough, designed to handle the day to day challenges of water, impacts and scratches. I expect there was a lot of testing in to this because if it can't handle the elements it would be a huge issue.
The advertising clearly pitches it to the same market as the glasses – middle/upper-class folks who do suburban things and maybe travel a bit. I'd be surprised to see anyone in construction stepping out with this on.
The battery can last all day and the charging unit is not unattractive. But the truth is my side table is feeling pretty pregnant with devices currently. Smartwatch, smartphone, smart alarm clock and now…a smart ring. I guess I could find another power outlet somewhere in the house that isn't plugged in to something more important.
Truth is, as I've said, I've signed up for all of these things because yes. Just….yes.
The size of the echo loop for the average hand will be telling once the echo loop out in the wild.
See the echo loop here.
echo Buds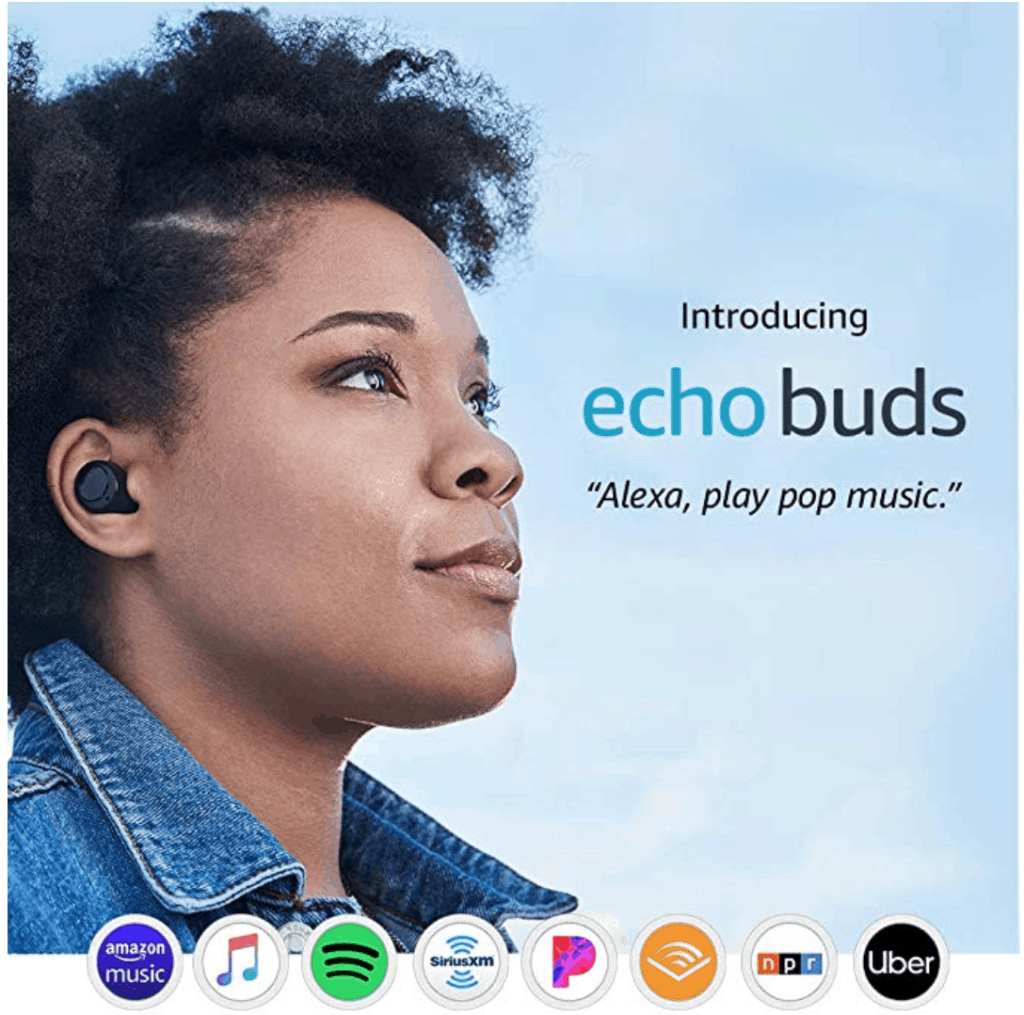 This is probably not as exciting as some of the other devices that were announced today. earbuds, or any earphones or headphones that are compatible with a smart device. The Bose QuietComfort 35 II are Alexa enabled as an example.
Interestingly, or should I say intelligently, Amazon has included the ability to use the buds with other smart assistants including google assistant and apple's Siri using the press and hold hardware feature.
Amazon has also gone a little extra with these, not exactly personalised, but they have included 3 different ear tips for optimal fitting.
The success of these echo buds will come once the sound quality is reviewed. While many will not really care or understand what the sound quality will be like
See the echo buds here. Available for pre-order and not invitation only.
Other echo releases from Amazon today
There are a lot of other devices that have been released. These are not as exciting.
Echo Studio
The Echo Studio is a really good looking speaker that focuses on 3D sound. My expectation of this is that it's trying to be the speaker that fits anywhere in your house. With side-firing top tweeters. mid-range speakers and a down-firing subwoofer.
There are 5 speakers in total. It's almost like a little version of a Dolby Atmos speaker set up, like a soundbar. [EDIT: It does have Dolby Atmos built-in]
Closer in competition and target audience to the Apple HomePod.
Personally, if I wasn't such an uber-audiophile, I'd really like one of these. I think it looks awesome and if I get a bigger house with multiple lounges or a larger study, then I would certainly think this would be a good fit.
See the echo Studio here
Echo Show 8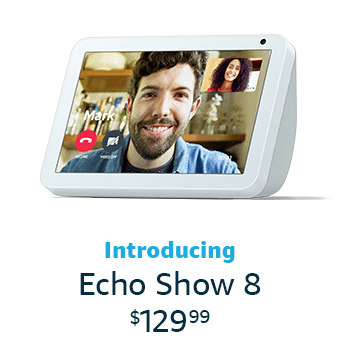 An upgrade and improvement to the echo Show that was selling in huge volume on Prime Day earlier in the year.
The echo Show 8 just seems like a bigger version of the echo Show 5 with few other differences. The echo Show 5 has a 5.5″ screen and the new echo Show 8″ screen…kinda makes sense right – hint, it's all in the name.
This will be a competitor for the Google Home Hub.
See the echo Show 8.
echo Glow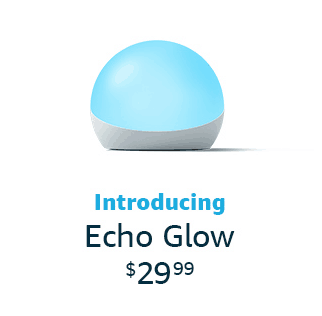 I love this. I wish this was out when my kids were younger (although they still say they REALLY want one). This a very cool multicolor smart lamp.
Super simple to set up and manage – Certified for Humans approved.
So if you want to get a kid-friendly, cute and nice glowing night light style echo device for your kid's room, this is it.
See the echo Glow here.
echo Dot with Clock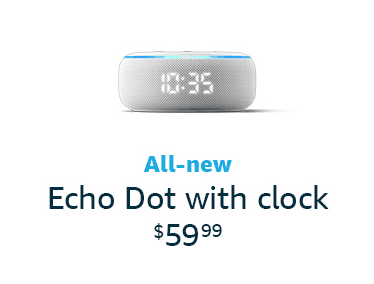 This is one of the best and simple updates to the echo range. For me, this makes a potentially awesome bedside table alarm clock (crammed in next to my smartwatch, smartphone & echo Loop).
If the glow on this is adjustable, or at least subtle it would be an awesome way to have the time next to the bed that doesn't keep me up.
See the echo dot with clock here.
echo Flex
This is another sneaky way the echo is going to sneak into your life. I can see this in garages, spare rooms, utility rooms and all sorts of other places.
The real success of this, in my opinion, is the you don't need a table, a place to hide cables etc. You just plug it in a boom, alexa in a wall outlet. Quick and easy.
The third-party night light add on and included USB plug opens it up to more third-party devices and plenty of uses. We need a night light in the hallway, so why not have an Alexa there too?
See the echo Flex here.
But wait there's more…
Other devices that I won't cover here include:
Amazon's echo ecosystem – hard to say no to.
Essentially, it's getting harder and harder to ignore the Amazon echo, Alexa echo system.
Personally, the natural and intelligence of Google Assistant are superior.
The Skills network available to Alexa is still a bit clunky for me and feels like a really crowded poorly executed App store.
But – it's impossible to ignore that Alexa is just better implemented into our lives and while google is chasing hard with the release of the Home Hub, acquisition of Nest and a frequent updates to Google Assistant, especially on Android devices, it's still the choice of a certain intelligent and slightly nerdy class of people.
Alexa and the echo infrastructure appeals to the masses and essentially just works.
I have Alexa and Google Home in the house and truth be told Alexa is easier to integrate with my families life. However, I remain a huge fan of Google for it's natural and efficient answers and information management.
Apple has Siri and the Homepod (throw in a little Apple TV as a hub) but they've really not effectively penetrated the home.
Google has Google Assistant, the Google Home and the Google Home Hub, which is close in competition to Amazons Alexa, Amazon echo and the Echo Show 8.
That's it.
Let's see how the reviews come in. I'll let you know what I get my hands on.
Last update on 2019-11-22 / Some images from Amazon Product API & some links may be affiliate links