A free Echo Dot with Ring Doorbell 2 – our Amazon deal of the Week
Amazon continues to discount and bundle its Ring products and Amazon Echo products. This week they are including a free Echo Dot with the purchase of a Ring Doorbell.
This deal is still active today!

Since buying Ring, Amazon have created better and better integrated features which we'll list more below.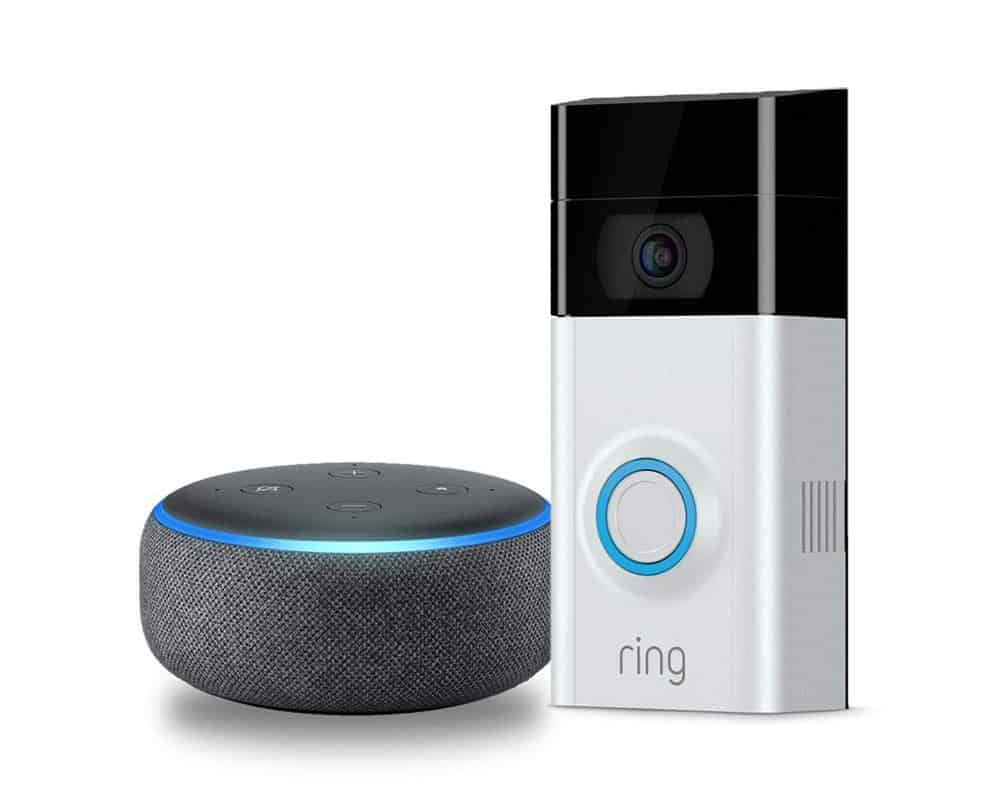 As an owner of both these products already I can vouch for how well they work.
The price on the Ring Doorbell is the same price as the doorbell and echo dot pricing bundle.

Features of the Ring Video Doorbell 2
We've owned the Ring Doorbell 2 for about 2-3 years and it's been a great little performer. Initially the software was a it slow but this has improved over time. When Amazon purchased Ring this probably helped speed things up.
If someone rings the doorbell you can have your Echo Dot light up and make announcements on your Dot. (if you have the echo Show or Spot you can also see and talk to people through the Ring Doorbell.) This is a feature added after Amazons acquisition and is a great pairing.
Door bell is battery powered but can last months depending on how much activity your door gets and how far out you set up the motion zone.
Monitors the area where you put and include infrared night vision
High Definition 1080p Video
If it gets stolen from your front door, Ring will replace it.
When it detects motion it alerts you (on your phone or echo)
You can monitor your front door live, in real time (I wouldn't do this too much as it will wear down the battery but it's handy to peek in from time to time)
Features of the Echo Dot
We're sure your are familiar with Amazons best selling smart speaker. We've written a list of Amazon Alexa Routines which work with the Echo Dot. It's affordable, effective and attractive; coming in many colours and even third party case options.
Play and control music with your voice
Send announcements between other echo speakers the house (e.g. 'Alexa, announce "Dinner is ready" and it will then say it over the other echos in the house, where ever the family is.)
Control smart home devices – plugs, lights, garage doors etc.
Connects via WiFi
3.5mm jack output which is a feature that makes it more attractive than the google home for people who want to connect the Dot to an old stereo or similar.
Gen 3 model which has a built-in speaker that sounds way better that the Gen 2 model.