Looking for the best running watch with music and GPS? Maybe even a watch with Spotify? Me too. Being phone-free has become increasingly popular, and this is especially true among people who enjoy walking, running, and other outdoor sports.
Having a watch that plays music without phone offers a lot of freedom in terms of movement because there's no heavy smartphone weighing you down as you run.
Editor's Pick
For a while, the Apple Watch was in first place, but after using it for a few years, I realized it lacked some essential features for a running watch. The Garmin 745 is the new leader for 2023 if you are looking for a running watch with offline music that also seriously caters to all running enthusiasts.
Contender
The Garmin Venu includes a brilliant AMOLED display and battery life that lasts for days. The Venu has Spotify built in for listening to and downloading music, and it has all the stats a serious or casual runner could possibly need. Another excellent watch in the Garmin range. You may also want to consider the Garmin Vivoactive 4 which has very similar specs but might feel more legit at your local running club, or the older Garmin Forerunner 645 Music which is still a crowd favorite.
Premium Option
This is the Garmin Fenix 6x Pro Solar. The Fenix 6 Pro raises the bar for an outdoor running and adventure watch by including onboard mapping and offline phone-free music.
This ground breaking technology is amazing for outdoor runners, outdoor enthusiasts, sports fans, and athletes. It's as premium as it gets in consumer and professional sports watches. Consider yourself elite with this high-powered, multi-function titan. Available in titanium and black.
This is undoubtedly the timepiece Jason Bourne would purchase.
People want running watches with music AND GPS built-in the most so they can run, track their run stats, and enjoy good music without having to bring their phone with them. All of that without interruptions or phone calls.
But you want it to be excellent, right? It can't have terrible Bluetooth that drops the music, and you can't have bad GPS that drops your run mapping stats or inconsistent heart rate monitoring.
I recently spent a significant amount of time online researching watches for running with music and Bluetooth headphones so that my wife could run with music (and GPS) while leaving her phone at home.
It took me so long to do this research that I thought it would be worthwhile to share in case it could be helpful to others.
When I say it took me a long time – probably over 9 hours of research. Overdoing it really.
Of course, the introduction of the new Garmin Solar powered range is the most recent and exciting news to reach this article. Included in this are the Garmin Fenix 6X Pro Solar (which has offline music), the Quatix 6X Solar, the Tactix Delta Solar, and the Gamin Instinct Solar (which does not have phone-free music). Spotify, Deezer, and Amazon Music are available offline on The Fenix, Aquatic, and Tactics. Because you can choose your music provider, they are among the best integrated running / sports watches with music available. Congratulations, Garmin.
The idea of running with only Bluetooth headphones and a watch, while still tracking GPS location, pace, heart rate, times while listening to music without the need for a bulky armband for your phone sounds to me like a perfect scenario.
Leaving my phone at home is a freeing feeling and good for me to be in a good headspace (and you too I expect). In addition to researching for my wife, I also researched and purchased a smartwatch – although my priorities were smartwatch first and running watch with mp3 music second.

Running Watches with Music Compared
Notes:
1 ATM = 10 Meters
IP68 is light water resistance and we'd not swim with our watch on.

Researching on Running Watches
Most of the research I did was on Amazon but there are a lot of running blogs that have bits and pieces here and there. My issue was that no one blog had all the options listed. There were posts about music on your watch but only a couple of models.
So the list that I've compiled (updated as at Jan 2023) is as up to date as possible with only running watches that include phone-free music as standard. I won't put prices here as they change frenetically so easier to check the price for each at the time your researching to buy. Links for each below.

Main Criteria for Running Watches with Music
No need for phone
Accurate GPS (Glonass a bonus)
Easy to use interface for running
Good Bluetooth connectivity for headphones or earphones
Good heart rate monitor
Decent amount of space for downloading music on to the phone
'Nice to Have' for Phone-Free Running Watches
Spotify with download option on watch
Waterproof
Great battery life for long runs when GPS, music and heartrate tracker are all working.
Integrates with Runkeeper first, or Strava as a second choice.
Full List of Running Watches with Phone-Free Music (Updated for 2023)
The notes on the end of some of the watches are just what I believe was the overall consensus from the hundreds of reviews I read. I'll update this list over time as new watches come along as I'm always interested in an upgrade.

Quick List (longer details follow below)
General Updates
Since writing this original post I did say I'd update this as new models of running watches with music come to marketing in 2019 thought to 2023 – all with offline music options so you can leave your phone behind.
The release of the Qualcomm's Snapdragon 3100 processor for Android watches in 2019 will improve performance and the release of the Apple Watch 5 will certainly spice things up. Fossil has been quick to release new watches this year with the latest being the Gen 5 range: Carlyle and Julianna.
The new Samsung Galaxy Active uses the proprietary Samsung Tizen OS which seems to be performing quite well as a sports & running watch.
I certainly think they've done one of the best-looking round watch face sports watches that also cross over to everyday wear. The screen is lovely.
I expect this year we'll see a lot more sports watches come to market with Spotify built-in with offline options for downloading music to the watch.

---
---
Running Watches with Music and GPS in 2023
This is list is in no particular order to keep it fair. In saying that, Garmin and Apple seem to dominate. With the recent news that Google bought Fitbit (for $2b) we can see that Google feels their current Android selection is a little lacking.

Garmin Vivoactive 3 Music
The Garmin Vivoactive 3 has a few things going for it. Overall the price and features make this a Top 3 choice for runners who what a good running watch + GPS + onboard music. Here are the key features, positives and some negatives.

Garmin Vivoactive 3 Music Features
Of all the runners we have polled, asking about their preferred brand of running watch, Garmin seems to win out every time. I'm not sure if that is a bias runners have, or if it's legitimately the truth of running watches.
With more recent updates to Garmin's line up to include solid offline Spotify integration, it makes them a good choice if you're looking for a watch that plays music without phone.
In saying that the Apple Watch 5 is still the leading smart watch that also happens to offer music on the phone for running, allowing you to leave your phone behind.
Download and store up to 500 songs on the watch
Bluetooth headphone compatible
Garmin Pay available (contactless payment method unique to Garmin)
Wrist-based heart rate
VO2 Max measurements
It's a smartwatch too
Bunch of preloaded sports apps
Some smartwatch apps available e.g. Uber
5 Hour battery life with running and GPS going
7 Day battery life in smartwatch mode
Pros
It's a Garmin. That seems to hold a lot of weight in the running world.
Equal memory size to most other watches so no points off for that.
2 Colours available
Waterproof 5 ATM
GPS, Glonass & Galileo (all three ? )
All-day stress tracking – this is unique to Garmin.
Affordable price considering the Brand and features.
Cons
Garmin Pay – not convinced about this one.
Limited colours – be nice in White
Vivoactive 3 Music – for latest price and more reviews: Vivoactive 3 Music


Apple Watch 4
The Apple Watch 4 is almost a given in this. It has a fantastic processor speed which ensures that it not only makes a great running watch but it also is the best all-round smartwatch available.
With the ECG feature available in the US, it also has medical benefits. But it's expensive.
The Apple Watch 5 is newer, faster and exceeds the 4 overall, but this is still a solid performer that only slightly lags behind its newer sibling. Great bang for your bucks.

Apple Watch 4 Features
Comes in a variety of colours to choose from. Lots of watch bands to choose from too.
Adjustable and swappable bands a plenty.
The Apple Watch 4 can include a nano-SIM which is unique to other phones.
Pros
Speed – processor is unmatched in a smart device currently
ECG – it's a medical device too
GPS, GLONASS, Galileo and QZSS. If you can't get a signal for tracking your runs…you must run in a cave.
Software updates are a sure bet for at least a few years. It might slow down but it'll get some of the good stuff they release each year.
Music can be streamed or downloaded.
16GB storage facility – most running smartwatches with music only have 4GB. It's being shared but it's still much better.
nano-SIM. Leave your phone behind – run without it and still take/make phone calls and control Siri etc.
Cons
Cost. Big expensive cost.
It's square. A subjective thing but feels wrong being square
Probable not fully featured for Android users.
Amazfit Stratos Multisport Smartwatch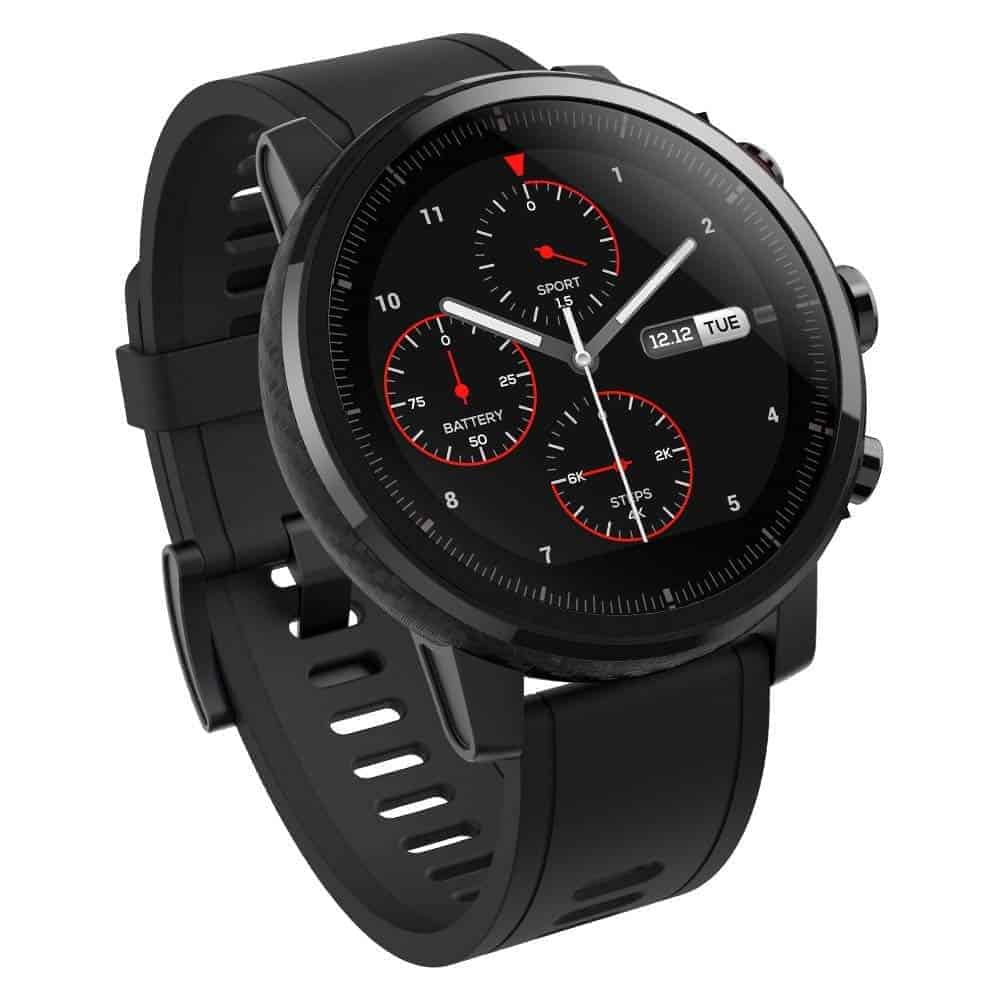 I really wanted to get this watch. It was a real contender – the features are plentiful and the screen looks really nice. It also has a natural round watch shape which was appealing. I was a bit too masculine and large for my wife but I seriously considered it for myself. Seriously impressive value for money for a running watch with music.

Amazfit Stratos Features
5 ATM water-resistant – this would be OK for swimming in
VO2 Max
GPS + GLONASS
Heart rate sensor
Pros
22mm regular watch strap
Waterproof (5 ATM)
Battery life
Built-in music capabilities
Value for money
Overall features for a watch are plenty
Decent processor speed
Strava features
Multisports mode
Cons
No NFC
Slightly complicated user experience
Music – ensure you have good Bluetooth signal
Not sure about OS platform – no evidence it's WearOS so…?
Music space approx. 2gb (4gb total on watch)
Fitbit Ionic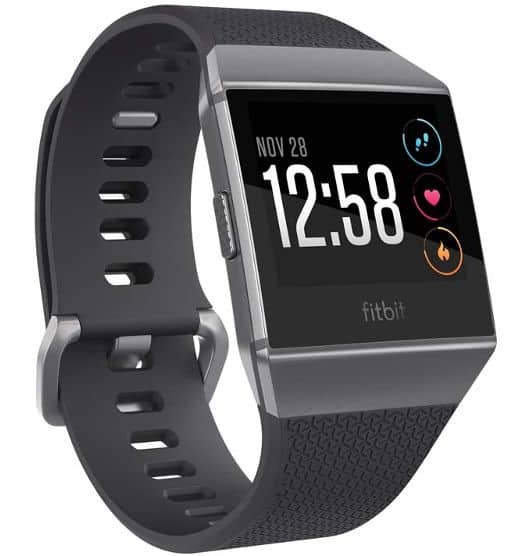 Definitely a design that people will love or love…less. This Fitbit Ionic just didn't seem to hold enough 'tech bling' for me. So as a running fitness watch, it's a subjective choice for sure. It's very popular and a solid brand behind it.

Fitbit Ionic Features
Store and play up to 300+ songs. Depending on the quality of the music files – this seems pretty typical but some units go up to 500 songs.
Smartphone notifications
GPS+Glonass
NFC including mobile payments
Pros
Phone free music (like all watches on this list)
Sleep tracking included
Built-in coaching features
Experienced brand
Design – if you like it
Build quality
Water-resistant (50m – 5ATM).
Finger sized friendly screen
Good battery life
Heart rate wrist-based monitor
Cons
Design if you don't like it
Can be a little slow
Storage is plenty but some might want more.
Garmin Vivoactive 4 and 4s
The Garmin Vivoactive 4 is the bigger watch. The 4s is the smaller running watch. Both come in a 40mm and 45mm watch face but the 4s is smaller. This is the main difference in the two watches. There are many different colours available in both with the 4s having a couple of more delicate features in the design.
I expect they are marketing the 4s as more presentable and the 4 as more rugged.
There are upgrades from the previous Vivoactive 3 model including some nice updates. Great battery life, up to 7 days when just used as a smart watch and up to 5 hours when used when running or exercising with the GPS and Music playing.
There's a wide range of preloaded exercise options and Garmin coach on the Vivoactive 4 and 4s which can help you get trained up for 5k, 10k, half-marathons and marathons. Nothing like having a trainer to help achieve your running goals. It also has Pulse Ox sensors.
The thing that we really like about Garmin's direction this year is the way they have integrated music on to their watches. You might need a music subscription to these services but if you do you can download from Amazon Music, Spotify and Deezer. Simple to do and it's great to have the choice of services.

Garmin Vivoactive 4 (010-02174-01 ) + Vivoactive 4s
Just <4GB of space for MP3 music downloads using Spotify, Amazon Music and Deezer (you might need a subscription to those third party services).
Bluetooth connectivity
Wrist heart rate monitor including Pulse ox.
GPS
5 ATM Water rating so good for swimming or showering etc.
Pros
Garmin quality
Good integration with iPhones

Onboard music services are unbeaten – <4GB is as good as anyone else

Garmin Coach for runners who want a little extra support.
GPS
Good for swimming with a 5 ATM rating
Samsung Galaxy Watch 4
The Samsung Galaxy Watch is probably one of the best selling smartwatches right now. It's not specifically a running watch but as it has all the sporty bits and it has music so it seemed wrong to leave it off.
Clearly, the look alone will turn some people off, especially my wife, or so I predicted. The Galaxy watch did lead me to the eventual choice for her and it was extremely close to being my choice also.
Safe to say the Samsung Galaxy Watch is one of the only serious current competitors to the Apple Watch.

Samsung Galaxy Features
46 mm watch face (also comes in 42mm watch face)
4GB internal storage
Barometer
Accelerometer
Light sensor (for dynamic display)
Wireless charging
Samsung Pay
Bluetooth
Swim proof – not sure that means waterproof.
Built-in microphone and speakers
Pros
Looks great for a tough watch
Great battery life
Swim proof
Samsung Pay built-in
Samsung Health & Fitness tracking included (same as their sports watches)
Bluetooth connectivity
MP3 storage for phone-free running and exercise with music
Round watch face – more natural
Built-in microphone and speaker means you can take calls on this. Your phone has to be in Bluetooth reach but you can answer and talk through the watch
Wireless charging on the Samsung Galaxy Watch is great. So much easier not having to line up charging points.
Cons
Proprietary OS. Generally, I tend to prefer Google/Apple/Samsung type platforms where updates are somewhat assured.
Apple Watch 6
The Apple Watch 6 has kept its physical design. There are a few new straps you can choose from and some nice new colours including Blue and a (red) model.
This new version has better V02 measuring and the addition of blood oxygen monitoring. You still get the ECG feature as well, making this a serious health device in addition to being a powerful fitness and running watch.
You can get the cellular version for true phone free running and there is a healthy 32GB of storage on the watch for music and apps. This means if you don't go cellular you can get the cheaper GPS model and still have offline music for your fitness activities.
There are so many positive features on this watch that it still takes the lead as the best running watch with gps and offline music. The Samsung Watch3 and new Garmin 745 are good, but just not this versatile.

Apple Watch 6 Features
ECG built-in

Blood

oxygen monitoring
V02 Max measuring
Waterproof 32

GB storage

Wrist-based optical heart rate sensor
50-metre water-resistant (5 ATM)
Comes in 40mm and 44mm sizes
Fall alerts
Pros
More features than can poke a stick at

Always on display

Excellent build quality
Variations – colours, size, straps – you can really make the Apple Watch 6 your style.

Powerful processor – can handle voice assistants etc well

Loads of offline music storage
Cons
Still at the pricey end, especially if you want Cellular and GPS
Garmin Forerunner 645 with Music & GPS
Another strong contender for the best running watches with music is the Garmin Forerunner 645. Garmin seems to have really captured the running watch market very well.
The issue is with the prices and I feel like over time they're going to have to work hard to beat out the rising contenders like Apple Watch and whatever Google plans for Wear OS in the future.
While Google isn't a big threat right now, it's price point for cheaper running watches with music and GPS will need to be considered. There are also a number of good Wear OS watches coming out with Spotify too. But I digress!
The Forerunner 645 with Music is a great watch. It didn't make the cut based on price but it was probably one of the favourites for sure.
If you really love running, want the Garmin name, and you want to fit in at the running club, this is a great choice. If you want a more feminine touch to the design then check out the Garmin Forerunner 245 which is newer but with much the same specs and can handle running with stored music and GPS.

Garmin Forerunner 645 Features
The Garmin Forerunner 645 Music features:
Bluetooth connectivity
Garmin Pay (like apple pay/Samsung pay/google pay…but Garmin pay – NFC contactless payments so you don't need your phone or wallet for a run!)
Space for up to 500 songs
Wrist heart monitor
Water-resistant (5 ATM)
Some wireless services connectivity (Spotify)
Pros
It's a Garmin. That means something in the running world. Probably the go-to brand for sports, running and outdoor watches.
Garmin Pay built-in. So you can leave your wallet at home and still buy a coffee.
The Garmin training software is smart – gives you what you need.
Integration with Spotify streaming service is a big plus. No need to manually manage files so much.
5 ATM water rating but wouldn't put too much trust in that if your swimming a lot.
Battery life is great!
Cons
Pricey. Not saying it isn't worth it and if you want a running watch only, then it's good. But if you want a few more smartwatch features then the Watch 4 is a better choice in this price range, if you can live with shorter battery life.
Samsung Galaxy Watch3
This was one of the most anticipated launches of 2020 for Samsung. All the previous owners of the Samsung Galaxy watch were excited to see what new features would be released. The Samsung Galaxy Watch 3 definitely competes with the Apple Watch (on price also) and was first with the blood oxygen measurement.
It still runs a smart assistant called Bixby and you can talk to it like you would Siri or Google Assistant.
Physically, it still looks a lot like the previous model but with improved features, speed and storage. Tizen has proved pretty stable over the years.

Samsung Galaxy Watch 3 Features
Finally includes offline music with Spotify support

Tracks seven main sports and health activities.

Sleep tracking

Stress tracking

Blood OX level monitoring
Heart Rate monitoring
Trip/Fall Detection
Pros
Great looking watch.
Blood OX level monitoring
Spotify now included (offline options for music)
Samsung Pay (where supported)

Massive 8GB storage onboard

Rotating Bezel is back with the Watch 3
Bluetooth and LTE options available
Tizen currently better than Google Wear OS
Cons
Didn't get any cheaper with newer models
Tizen is a closed OS
Some great additions in the Watch3 but they didn't step far from the previous model – is that a con? or…
Some frustration with Verizon connectivity
Garmin Venu Sq Music
Garmin has built on the success for the Venu with the Venu Sq. It comes with an impressive 6-day battery in watch-only mode. This time is greatly reduced if using music and GPS, of course.
Designed with smaller wrists in mind with a 125-190 mm band circumference it still has Garmin Play, Spotify Offline, Amazon Music, Deezer, Garmin Fitness options and the addition of tracking your personal moon cycle.
There is nothing lacking in this Garmin which makes it excellent value for money. It's packed with all the tracking radio options and the powerful additions that Garmin's operating system offers.
For the price this is an impressive and popular sports watch and of course, it offers offline music for your running. Just makes sure you select the Music option when you buy it. The Venu Sq Standard doesn't offer offline music, the Venu Sq Music does.

Garmin Venu Sq Music Features
Numerous color options
Pulse OX Sensor + Wrist based Heart Rate monitoring
Stress Tracking
Menstrual Tracking
Advanced Sleep Monitoring
Garmin Coach
Fitness tracking
Garmin Pay
GPS / GLONASS / GALILEO
Pros
Nice fit for smaller wrists
Fully featured for the price
Spotify / Deezer / Amazon Music
Garmin Coach and all the fitness features from Garmin
Pulse OX Sensor monitor
Garmin Pay – leave your wallet at home
Always on display option
Cons
Costs most for the music version
Nothing else for this price
Huawei Watch 2 Sport
It's easy to write about this watch as it's the one I choose. After 6 months of use, I can't say enough good things about it, but I wrote a separate review on it which you can read here.
I knew it wasn't a new model but as there were few other watches being released I figured that it was the best of the bunch. I wasn't crazy about a super sporty looking watch but as the owner of a Seiko 5 watch (SNZF17), which is my favourite watch of all time (even though it's quite cheap) I was happy that it had a tough look to it. The Huawei Sport 2 ticked all those boxes.
When running with the watch I use Google offline music as it's the built-in option. I do have Spotify on it but that only works with your phone, google works without your phone.
With google music, I can stream music from the cloud on the phone (I have the 4G model) OR before you leave home, and your phone behind, you can click the albums you want and download them for offline use. You can also download on the 4G/LTE model without WiFi but that will use data.
This means you can run without your phone and have all the music you need.

Huawei Watch 2 Sport Features
GPS and GLONASS
Wrist-based heart rate monitor
Huawei Health built-in
Sleep tracking built-in
Wear OS
Interchangeable watch bands – standard watch size
Built-in NFC payment – Google Pay
4GB on watch storage for music.
Bluetooth
WiFi
Pros
Comfortable – I can wear this all day and not notice it
Wear OS – updates often, isn't the fastest, but it works
Good integration with iOS for notifications
Sleep tracking is great
GPS is solid – great on watch mapping and very pin-point accurate
Heart rate and workout statistics and graphs are really great – nice on the phone and on the watch
Running coach and running plans built into Huawei Health app are good
Cons
Speed. This is a complaint of every smartwatch using a Qualcomm Snapdragon 2100 chip, which is nearly all of them right now. It works but it could be faster. The 3100 chip is being used in more smartwatches this year.
No other complaints at this price.
Fossil Sport Watch – Gen 4
The Fossil Sport Watch comes in two styles – Women and Men's versions. Powered by Google Wear OS you can be sure you'll get updates and be able to change the watch face to suit.
Mediocre reviews on this steered my clear but there's a huge Fossil fan base out there, and considering Fossil watches come out of the same factory as most other brands it seems likely they are as good in terms of build quality as all the rest.

Fossil Sport Watch Gen 4 Features
Wear OS
Swim proof – 5ATM
24-hour battery life
Magnetic charger
43mm Men's and 41mm Women's
22mm watch band (Men's) and 18mm watch band (Women's)
Heart rate tracking
Offline music storage – 4GB on watch storage
GPS (no clear idea if it's only GPS or if it also has GLONASS or similar?)
iOS and Android compatible
NFC Google Pay
Pros
Wear OS so at least you know it will maintain some sort of updates
Swim proof
Men's and Women's options…if you like being matchy matchy
Offline music storage – 4GB
Built-in microphone
NFC Google Pay is built in so you can 'coffee' with the cool kids after your run…or just pick up some milk at the store on your way home
Cons
Battery life can suffer pretty quickly of you like to doodle with your watch a lot. True of most Wear OS models here
A little slow – as all Wear OS Snapdragon 2100 models are here
Garmin Fenix 5X Plus
Let's be clear, this is not just a running watch, although you could use it just for that and be very happy. The Garmin Fenix 5X is a multi-sport watch with serious firepower. It has been updated to the Fenix 6x now but the 5x is still not sluggish.
It's a chunky monkey so if you have petite wrists then you might look like a kid trying to fit his Dad's wetsuit (I have petite wrists). It comes in Orange too, which you will already have realized I really like for a sports watch. If you have the money then there is little debate this is the best of the best.

Garmin Fenix 5X features
Premium multisport GPS smartwatch
Garmin Pay
Stores up to 500 songs
GPS, GLONASS and Galileo built-in (no ones getting lost)
10 Day watch life (or 8 hours with GPS and Music going – Marathon-able)
TOPO Maps
Loads of colour/spec options
Wrist base heart rate
Spotify compatible – Garmin did an update across a whole bunch of watches.
Waterproof
Pros
Multi-sport options
Waterproof – not just resistant
If Topographical maps are an important part of your running i.e you are an ultra marathon runner, then this is a big pro to the Fenix.
Garmin Pay NFC eWallet
Spotify integration
Cons
Cost – it's not cheap but if you're serious about running, or multi-sports, then this is the high end.
Fossil Gen 5 Carlyle
New for 2019 and already exciting all the Wear OS / Fossil fans in the Fossil Gen 5. This is perfectly aimed at a market of people where it's common for both people in the relationship to have the watch.
The customer seems to be young and cool. The style between the watches isn't vastly different, but different enough that the Gen 5 Carlyle and Julianna are clearly designed with both Men and Women respectively.
The Gen 5 Julianna has a beautiful Rose Gold model which will appeal to a lot of women and definitely brings a new look for a ladies smart watch with music.
Fossil have jammed in the features and the most significant improvement with the Fossil Gen 5 is the upgraded processor – now the Qualcomm Snapdragon 3100, upgraded from the 2100.
Speed has always been one of the major complaints with Wear OS devices so the Snapdragon Wear 3100 is a welcome update to Wear OS smart watches.
As it is the newest and best broad market watch in 2019 it is going to sell like hotcakes. I also expect this and the Samsung Galaxy Active will battle it out.

Fossil Gen 5 Carlyle Features
Wrist-based Heartrate tracking
Changeable watch bands – style is important people.
NFC
8GB on watch storage which gives plenty of room for music
Google Pay
Swimproof (3 ATM)
Speaker and microphone built-in
Wear OS
Google Assistant
Pros
For a new release, it's affordable
Includes all the things you want or need in a running watch & smartwatch
8GB is a good amount of on watch storage for apps/music etc
44mm for the Carlyle is a great size for display
Snapdragon 3100 chip is faster and able to handle more – especially things like Google Assistant commands.
Great battery life.
Swimproof is a big win here.
Cons
Size might be a lot for skinny wrists unless you like that look
Nothing else of note.
Apple Watch 5
The Apple Watch OS 5 has an always-on screen but it's not really clear if there is a lot here to sing and dance about. A few more options for straps and some new apps. Watch OS 6 has arrived also with some performance updates.
While you wouldn't think of this as your first pick when shopping for running watches with music, it's actually a perfect match for that and so much more.
The always-on screen is a bit of a big deal as no longer do you need to do that awkward check the time thing, especially in a meeting or when you're in a conversation with someone. Much easier to take a sneak peek at the screen without needing any kinetic movement.
The eSIM will become more standard over time is my prediction, so the watch can operate completely independent of an iPhone.

Apple Watch 5 Features
Noise app alerts you if the abient audio around you is too loud.
Cycle tracking app for women
Expanded fitness tracking options – tracks more types of exercise
Continues to provide offline music with syncing options what just work. A good reason to choose this if you like running and want music with no phone.
eSIM option so you can not only leave the phone at home for music, but you can also leave it at home and use the Watch for calls and messages.
Siri onboard. This is something Apple Watch still has over Wear OS – Siri works really well.
Has a built-in Compass – I think this could be great for outdoor adverturers and expect there will be a news story one day that tells us how someone made it out of a deep dark forest after getting lost by using the Watch Compass.
Watch OS 6 app store on the watch so you can find apps and install without the need for your phone.
ApplePay
Stainless Steel or Aluminum body options.
40mm or 44mm
GPS + Cellular
Sapphire crystal glass
Water-resistant 5ATM (Swimproof)
Pros
Noise app is pretty cool.
Lots of straps to pair and mix and match
It's essentially become a phone independent watch for calls, apps, music and messaging. Pretty impressive.
All-round solid watch for sports, running and a lot more.
Cons
Still expensive but this also makes the very capable Watch 4 look good.
New leather loop strap is nice, but expensive too.
Garmin fenix 6X Watch
The 2020 release now also includes the Garmin fenix 6X Pro Solar edition which includes a built-in solar charging ability on the watch. This allows you to charge the phone when out in the sun which is a major break through. See on Amazon. Make sure to watch for the Pro Solar if purchasing as they look similar and have similar names to the fenix 6x without solar.
The Garmin fenix 6x is some serious firepower for a multi-sports watch – much more than just a running watch with music. It includes some cool smart features but there a bunch of features it bypasses to ensure it remains a serious watch for serious sports enthusiasts.
It comes in a range of really great looking colours and finishes including a nice Rose Gold.

Garmin fenix 6x Features
1.4″ display
Mapping options – Topo maps
Onboard music (offline options)
v02 estimates
Garmin Pay
Maps included for 2000 ski resorts around the world. Pick your next ski run from your watch. That's pretty cool.
Power management options so you can see what's using the battery juice up fastest.
Wrist-based heart rate sensor
GPS, GLONASS and Galileo
42/47/52mm sizes
10 ATM – the highest-rated sports watch waterproof rating on our list in 2019
32GB Storage
So.many.options! Bands, materials, bundles etc. Garmin have doubled down on this model and it sits at the top of the list if not for the price and also if you don't need the smartwatch features of the Apple Watch 5.
Comes in 6, 6 Pro, 6S, 6S Pro and 6X
Pros
True multi-sport watch
GPS that works
Topo maps are a nice addition, was also on the fenix 5
Loads of features and finish options
Cons
No 4G LTE option
Cost, but you have the money then this is not a con.
---
Past models from this list
The Polar M600 was a watch that I wanted to like because it was one of the only ones to break the design mold. It has an android OS and a nice clean interface. It is a now a little older and never really caught on with running fans. It's also one of the only models that supports music in the Polar watch range.
The Samsung Gear Sport is still a great watch with offline music but Samsung has released newer models that mean this moves off the active list. It's water-resistant to 50 meters and finally, it looked better than a lot of others in this space. If you can get it on sale, it still performs.
The Apple Watch 3 is still a great watch but now that it has been surpassed by more than 2 models it seems time to retire it to this section. You can get it for a great deal so it's still worth considering if you'e not the type that needs the latest and fanciest of gadgets.
The LG Watch Sport tried to enter the fray but didn't seem to hold its own well enough. It is now discontinued.
Motorola Moto 360 Sport – this watch was released in 2016 and while you can still get your hands on it, there are better options on the market.

Conclusion on which running watch with music we chose…(drum roll?)
Running watch for my wife:
I went with the Samsung Gear Sport for my wife because it was affordable and seemed to have a straight forward interface. The bezel works well and the interface is attractive. The colour was also appealing to my wife. #winning
2 months in and many runs finished the Gear Sport was a good choice for the price. Transferring songs to the phone was very easy, much easier than I expected so I would recommend it.
The real winning watch was the Apple Watch 4 and now the Apple Watch 5 but just couldn't stretch to that considering this was also a bit of a test as to whether she would like using a running watch with music, or a watch at all.
Running watch for myself:
So an update on the below is that I'm moving to the Apple Watch 6 on release next week. It's been a long time coming but I just struggle with the Wear OS software on a slow chip so it's time to upgrade.
This will give me phone-free running with music but also the eSIM and Apple Pay will let me leave my phone at home for most trips out of the house. I share more later.
I went with the Huawei Watch 2 for myself and while running wasn't my priority, I've clocked loads of runs on this and love it. It connects to my Bluetooth earphones easily. The GPS is excellent and the heart-rate monitor is also consistent.
It's light, comfortable and also quite comfy to sleep wearing at night for sleep monitoring. The built-in fitness app data is attractive and well organised and the sleep tracker is excellent.
I especially bought this for the built-in 4g sim card so I can use it as a watch and phone on the go (like the Apple Watch but cheaper). This doesn't seem to be on the US model but is on the UK model.
If I've missed a winner for running watches with music, let me know in the comments below.
What we like (Pros)
Blood Oxygen + ECG monitoring
Always on brighted screen
Vo2 Max monitoring
Loads of storage space for music
Good battery life
What we like less (Cons)
Price
Endless hours of experimentation, professional work, and personal investment in Home Theatre, Hi-Fi, Smart Home Automation and Headphones have come to this.
Former owner of Headphones Canada, a high-end headphone specialty retailer.
This post was last updated on 2023-09-26 / Some images from Amazon Product API & some links may be affiliate links which may earn us a commission from purchases.