Current testing methodology is v1.2
Release Date
November 1, 2016
Price
Price not available
Model:
‎LHA19E26UC10
Weight
7.8 oz
Size
2.48 x 2.48 x 4.53 in
LIFX smart bulb review – how you can integrate it with your smart home + Alexa or Google
LIFX bulbs have arguably established themselves as the best Wi-Fi smart bulbs you can get, so we felt we really should do a LIFX A19 review and include some helpful extras. Many say their light arrays are better than Philips Hue and you don't need a hub to use them so, are they worth the money?
In this LIFX bulb review, I'm going to try to cover a few different things in a mildly organised manner. Most of it applies to any LIFX bulb model but I currently own 2 of the A19 with E26 and B22 fittings so this is also from the perspective of a LIFX A19 review.
Side note – I bought both these units myself. These were not provided by LIFX. This is a completely independent LIFX A19 review.
I'll go over:
How to integrate LIFX into Alexa routines
The difference in the A19 & A69 models including E26, E27 and B22 fittings
A list of LIFX bulb models
A selection of different uses and use cases using IFTTT, Alexa and more
A list of third party integration options with LIFX
I currently have 2 Philips hue A19 white bulbs in the house and they are integrated with Alexa and Abode. They work great, but I can't compare them to the LIFX bulbs as the Philips Hue are white, and my new LIFX bulbs are coloured.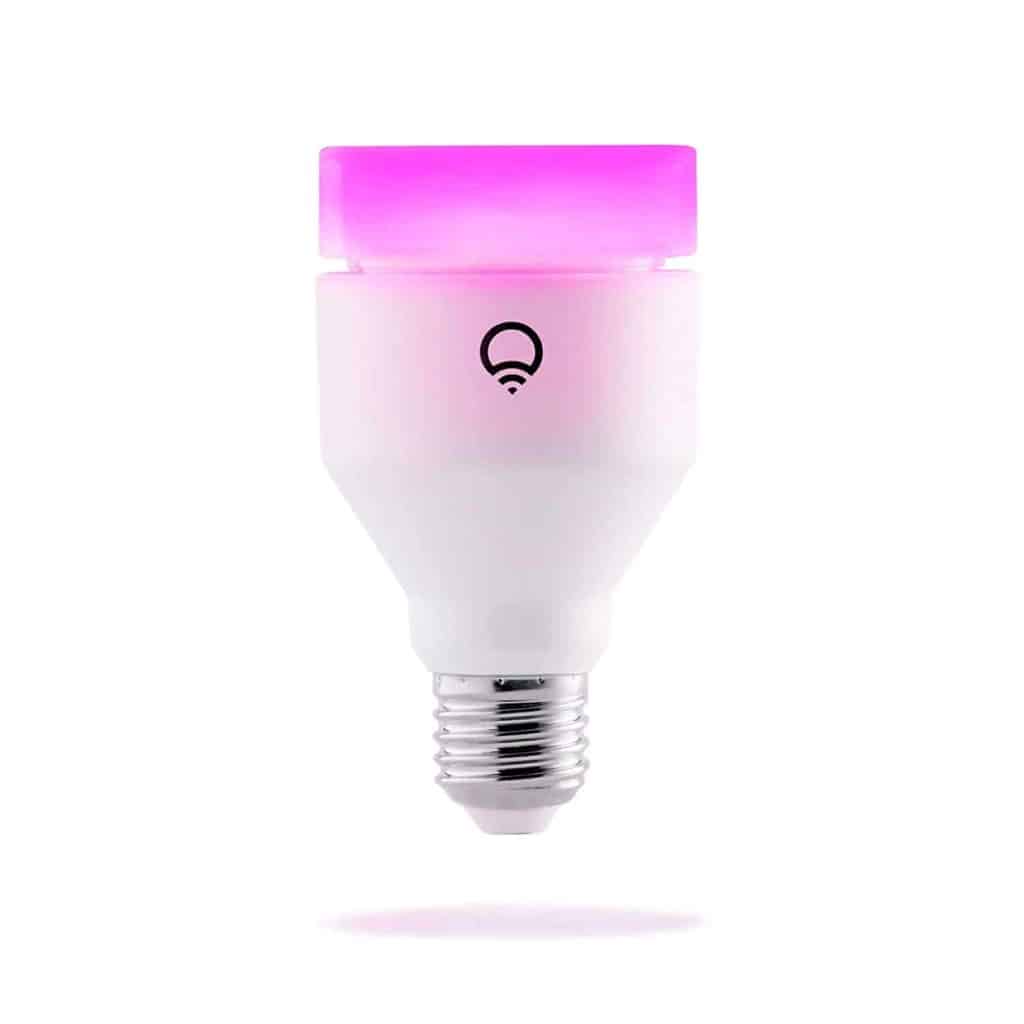 Both the LIFX and Philips Hue integrate with Abode and Alexa (although you might need a Philips hue hub for Alexa.) I use my Abode security system as a smart home hub to control both the LIFX bulbs and Philips A19. Abode connects to LIFX via a WAN connection so while they don't have Z-Wave or Zigbee, they can still communicate directly on a local Wi-Fi connection.
My Abode alarm system (see our post about Abode Security System here) has lots of add ons but I've never stepped into the world of colour bulbs like the LIFX for a few reasons:
WAF – Wife approval factor (or PAF – Partner approval factor) has never been granted. Apparently coloured bulbs like LIFX and Hue are only for Christmas trees…?
Cost – these smart bulbs are rather expensive, right?
Use cases – I couldn't think of suitable uses that really justified the cost
Other smart devices that work with LIFX that I have at home are:
LIFX A19 Bulb Unboxing Photos
Why LIFX bulbs are so cool (the moment light bulb went off in my head)…get it? ?
Recently I saw a post on Reddit with a guy talking about setting scenes in conjunction with Alexa and LIFX. I always knew routines were possible with Alex but I'd never gone through the process of thinking about scenarios and routines that might be useful.
It's one thing to get the smart devices in the home and another to take time to explore all the opportunities.
The Reddit user's scene was for 'business time' which included setting two bedroom lights to 1% brightness, the colour red, volume on Alexa to 3 and then start to play 'Careless Whisper'.
I thought this was hilarious and it started me thinking of ideas outside of 'business time' that might be good for this.
My first LIFX smart bulb routines
I believe to make Alexa Routines really worth it, you really need a few things you want to control. If you only have one thing, like a smart light bulb or strip, then it's less enjoyable as why wouldn't you just say 'Alexa turn on the lamplight'. LIFX has a good app if you just want to control the lighting of things.
If you have a few items in the house to control then it's more exciting.
Anyway, here are two immediate scenarios I set up using Alexa and Alexa routines.
Alexa Bedtime Routine
Saying Alexa, Bedtime (I use this when I'm in the lounge before heading to bed.)
This turns off the Samsung TV, Apple TV and Denon AVR-4500h Stereo via the Harmony Hub.
It turns on a bedroom LIFX light to warm colour and low light.
It sets the bedroom Alexa volume to 1 (or 10%)
and starts playing relaxing rainforest sounds on Spotify.
Once I'm then ready for sleep I use the following routine.
Alexa Goodnight routine
Saying Alexa, Good night
This turns off the lounge LIFX light
Stops the rain forest sounds
Turns off the bedroom LIFX lamp.
It then starts playing babbling stream nature sounds for only 15 minutes.
If I wanted to I could also add the following to the routine:
set the Abode Alarm to Home mode
lock all the doors (using my Yale and Schlage Z-Wave/Zigbee locks)
close the garage door with Tailwind garage door opener if it was not already closed. (see our Tailwind Garage Door review here)
I'll save posting about all the other routines I've created this post for Alexa Routine Examples. Some of them I've set up through Abode Cue automations, some through Google Home, some through Alexa and some through IFTTT.
I'm still deciding if I am all-in on an ecosystem or will use multiple i.e Apple HomeKit, Alexa, google home, abode.
What's the difference between the LIFX A19/A60 and E26/E27 and B22?
When buying my bulb I got a little confused as to the LIFX options. And while this LIFX A19 review focuses on that model, I'm hoping this section helps someone when they are choosing which LIFX bulb to buy.
The A19/A60 relates to the sizing at the widest part of the bulb. The E26/27 & B22 relate to the fitting at the base of the bulb – screw vs bayonet.
I'd like to clarify that the A19 is the same as the A60. It's simply metric vs imperial numbering. In North America, the typical and most common bulb fitting is an A19 with an e26 base (screw fitting) like below:
The second thing I'd like to clarify that the LIFX A19 does come in a normal E26 or E27 screw bulb. The E26 and E27 type bulb is the mm (millimetre) measurement of the screw base. The good news is the E26 and E27 nearly always fit the same screw fittings, no problem. So don't stress about getting that perfect.
The LIFX A19 B22 is a bayonet fitting that is universal. Bayonet fittings are more common in Australasia, and less so in North America.
Bottom line – it's one bulb with either a screw base or bayonet base. As long as you choose the right base type, which for USA/Canada is most likely to be the E26 screw type, you'll be fine.
In basic terms, the e26/e27 is a screw base and the b22 is the one with 2 little stick out bits on the bass that hook in when you push the bulb down and turn it in the light bulb socket.
The other models of LIFX Wi-Fi smart bulbs include the same A26 base or B22 is an option in some countries. These models include:
LIFX BR30 (Can also be used outdoor out of direct water contact)
GU10 Downlight
LIFX BR30+ (Can also be used outdoor out of direct water contact + infrared lighting for cameras)
LIFX A19/A60 + (Has infrared light to help with security camera lighting. You don't see the infrared but cameras do at night)
LIFX with Alexa, Google Home, Cortana & Apple Homekit
So many smart assistants, so little time. The best thing about LIFX bulbs is the lack of need for a hub. This makes it great value for money and also opens up its interoperability.
It really stands out here that the LIFX works with Apple Homekit. It's common to find smart devices that work with Alexa and Google Home, but much less common to find them working with Homekit. This is mostly due to the complications with being approved by apple to be Homekit compatible.
The requirements for Homekit are changing so this might open up the number of devices being approved, but so far it's slowed down a huge amount of companies from getting approved into the Homekit ecosystem. I expect this is because Apple wants to ensure it's safe and no one can hack into your devices.
Using LIFX smart bulb with Alexa
LIFX comes with a companion remote app for iOS and Android. This allows you to set routines/schedules, manually fix colours and tweak groups etc.
With Alexa (and Google Home is similar) you can control the lights from the Alexa app, including the LIFX bulbs in Alexa routines and use voice controls to change settings like brightness and on/off.
With voice controls, they are building a long list of color names like daylight, green, sky blue etc. This means you can say 'Alexa change the lounge light to sky blue'. And voila…I think you can guess what that does.
LIFX A19 lifespan & technical bits
The LIFX colour range is a full 16 million colours. That's a lot of zero's…like this many – 16,000,000. I chose these as I had expectations their cools and warm whites would be good.
The life span of the bulbs is said to be 22.8 years if you use them for 3 hours a day. LED for the win!
The temperature range, in Kelvin, is from 2500K to 9000K
Daytime to nighttime scheduling on LIFX bulbs
The LIFX bulbs and led strips and wall panels etc have a cool feature that lets you set dawn-till-dusk type configuration.
It means the colours of your LIFX bulbs when set to white can slowly change color during the day as the sun moves through the day.
So you can have a brighter white in the morning and a warmer white as the evening rolls on. Whatever time in the day you turn on the bulb – you will get the right temperature based on your preference. It looks like this in the LIFX App.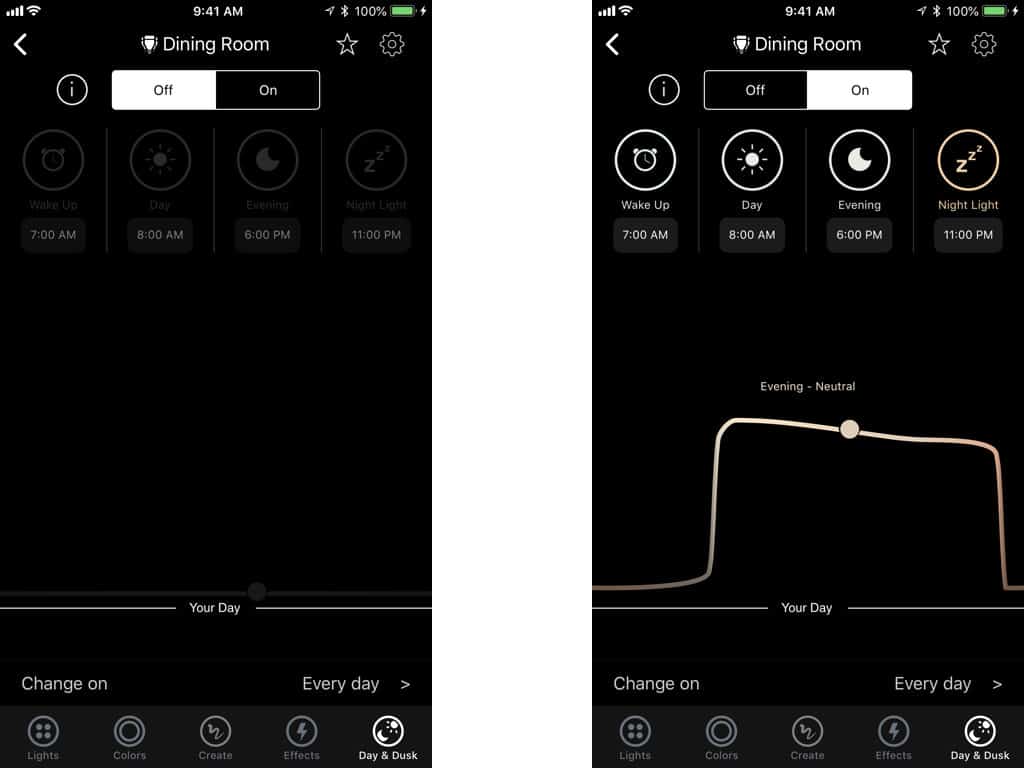 Wake up and Sleep scheduling with LIFX Lights
This is one of my favourite features of the LIFX bulbs. You can set do this automatically on a schedule/routine or manually.
Morning wake-up light routine with LIFX smart bulb
Essentially you can set a bulb to slowly turn on over a set period of time in the morning. It can start at a set time, or with the sunrise based on your location.
You can set the bulbs to start slowly warming over a set time and choose the colour temperature to start and end on. This means you can start with soft warm light and have it brighten and increase over a time period, like 15 minutes. I think 15 minutes works really well, 30 minutes it too long for me.
Example:
At 6.30am your bulb starts to light up from dim, warm light and over 15 minutes it brightens to bright light (or bright-ish…it is early after all).
This allows you to wake up more naturally, like you would with the sunlight and, from some reports, this is good for mental routines and wellbeing.
Sleep routine
Like the wake-up routine, you can also set a bulb to fade out over a time period.
You can do the above options with the Day to Dusk feature but doing routines is better in my opinion. Mostly because LIFX Day & Dusk schedule is defaulted to every day, whereas you might want to only have the wake-up light on an irregular schedule etc and you can add more actions to a routine.
Wake up scheduling with Alexa
You can also use Alexa scheduling with LIFX. For example, if you think you won't wake up you can set an Alexa schedule to flash the bulbs, change their colour like a disco, and also add an audio alarm if you need it.
This is pretty cool and I prefer to use Alexa routines where possible as I can include other things like, playing audio like news in the morning or nature sounds at night, and turning other devices on and off.
LIFX bulb with IFTTT
If the LIFX App and integration into all the smart home devices like Homekit, Alexa, Cortana and Google Assistant are not enough there is still MORE you can do. OMG…does the versatility of these bulbs ever end!
IFTTT gives you even more options with LIFX.
An example for me is my Tailwind Garage Door opener. It doesn't natively connect to my Abode home security system but I might want to make LIFX and Tailwind do things together…like:
I might set up IFTTT to turn on my garage light when I arrive home and Tailwind opens my garage door.
or
I might set the lounge light to flash when my phone gets a notification.
These are not things I use as I have Abode doing all that and having lights flash when my phone gets a notification will frustrate my wife no end.
Just illustrating that LIFX with IFTTT opens the door to loads of other systems that you might have.
LIFX A19 bulb and Nest products
But wait there is more to this LIFX A19 review that continues to expand and demonstrate its amazing connectivity as a wifi smart bulb. LIFX also works with Nest Thermostat, Nest Cam and Nest Protect. You could:
have the lights turn off if Nest Thermostat detects you are away.
have the lights flash if Net Protect alarm goes off.
flashlights to indicate Energy Rush hours – if you have it at your house. Flash a greenish light for 'Go!' and a reddish for 'Stop!' when the hours end.
Turn on/off LIFX smart light bulbs when motion detected
Another favourite of mine is to have the LIFX light bulbs light up when they detect motion at night. I have a motion detector connected to my Abode security system that sits in my kitchen, which is connected to the lounge (open lounge/kitchen).
If it detects movement it turns on a LIFX light and can set it to a nice sleepy temperature/color. No one wants a bright white light in the middle of the night so it's nice being able to set temperature and brightness.
This is one of my favourite home automations as I often get up in the middle of the night needing water or because I can't sleep and need to stretch or get Tylenol/Panadol.
Here is the scenario so you really feel it:
If time is after is after 11PM and before 5am and motion is detected then turn on Lounge Light to 10% (LIFX A19)

then it turns off automatically.

If time is between 11PM and 5am and no motion is detected turn off Lounge Light (LIFX A19).

Make Life Click
This means I can walk into the kitchen in the middle of the night, get water and return to bed without having to touch a light switch, use a voice command or turn on my brain. #winning
Of course, you do all sorts of automation with motion sensors. I'm also thinking of having an LED strip light under the bed and also have a motion sensor there. So if I step out of bed at night or walk into the room I can have the led strip turn on to 1 or 2% to faintly light my way. Overdoing it you think?
You could also have motion sensors around the house and then never have to touch really touch a light switch. ??
Finally, you could advance this to change the colour of the bulbs based on the time of day. So if the motion is detected at 7pm it's a strong white light but at 11pm it's a warm softer light.
Here is the full list of current LIFX bulb integrations at the time of writing.
Smart voice assistants
Amazon Alexa
Google Home
Microsoft Cortana
Apple Homekit
Smart home systems
Nest
Flic
Xfinity
Logitech Harmony
Third-party apps
Smart home security systems
Can other people control the LIFX lights from their phones or is it just mine?
Good news on this front. LIFX app can be installed on all the phones of the people in your house so they too can control the lights as they like. This can lead to hilarious prankster events and lighting control wars internally, so play nice.
LIFX A19 Smart Bulb Unboxing Video
This is the short video we have done of the unboxing of the LIFX A19.
LIFX Bulb Review Summary – A19
So I got a little more into tutorial and example mode, more than focusing on the A19 LIFX smart bulb review – but I think you can see I'm a fan. The colours are stunning, the connectivity is vast and the quality is excellent.
There are very few things I can think of that I enjoy messing around with this much. The ability to say 'Alexa, movie night' and have my Apple TV/Home Theatre turn itself on, the LIFX lights turn on and change to a purple colour and a medium brightness is just cool.
The slow awake mode over 15 minutes with warm light for a morning alarm light is awesome.
The ability to voice control it anytime, integrate it with Abode Security and so much more – all without the need for a hub – puts these bulbs in my best buy list for 2019 for sure.
Happy to answer any questions in the comments below.
You can see the LIFX A19 (and pricing) here and the full LIFX Bulb range here
Lifx A19 Review - Wi-fi Smart Bulb
What we like (Pros)
Great range of colours
Integration with Alexa, Abode, Google, IFTTT, Homekit AND Cortana = awesome
Voice control works (with Alexa)
Scheduling options are plentiful and useful
Makes movie night, date night, sports games fun!
What we like less (Cons)
A little pricey, but worth it.
Endless hours of experimentation, professional work, and personal investment in Home Theatre, Hi-Fi, Smart Home Automation and Headphones have come to this.
Former owner of Headphones Canada, a high-end headphone specialty retailer.
This post was last updated on 2023-09-28 / Some images from Amazon Product API & some links may be affiliate links which may earn us a commission from purchases.